Bei Blubrake streben wir nach Exzellenz, indem wir ermutigen, über den Tellerrand hinaus zu denken, neue Wege zu gehen und unsere eigene Vision der Zukunft zu schaffen. Seien Sie Teil der Veränderung und schließen Sie sich dem Blubrake‑Team an.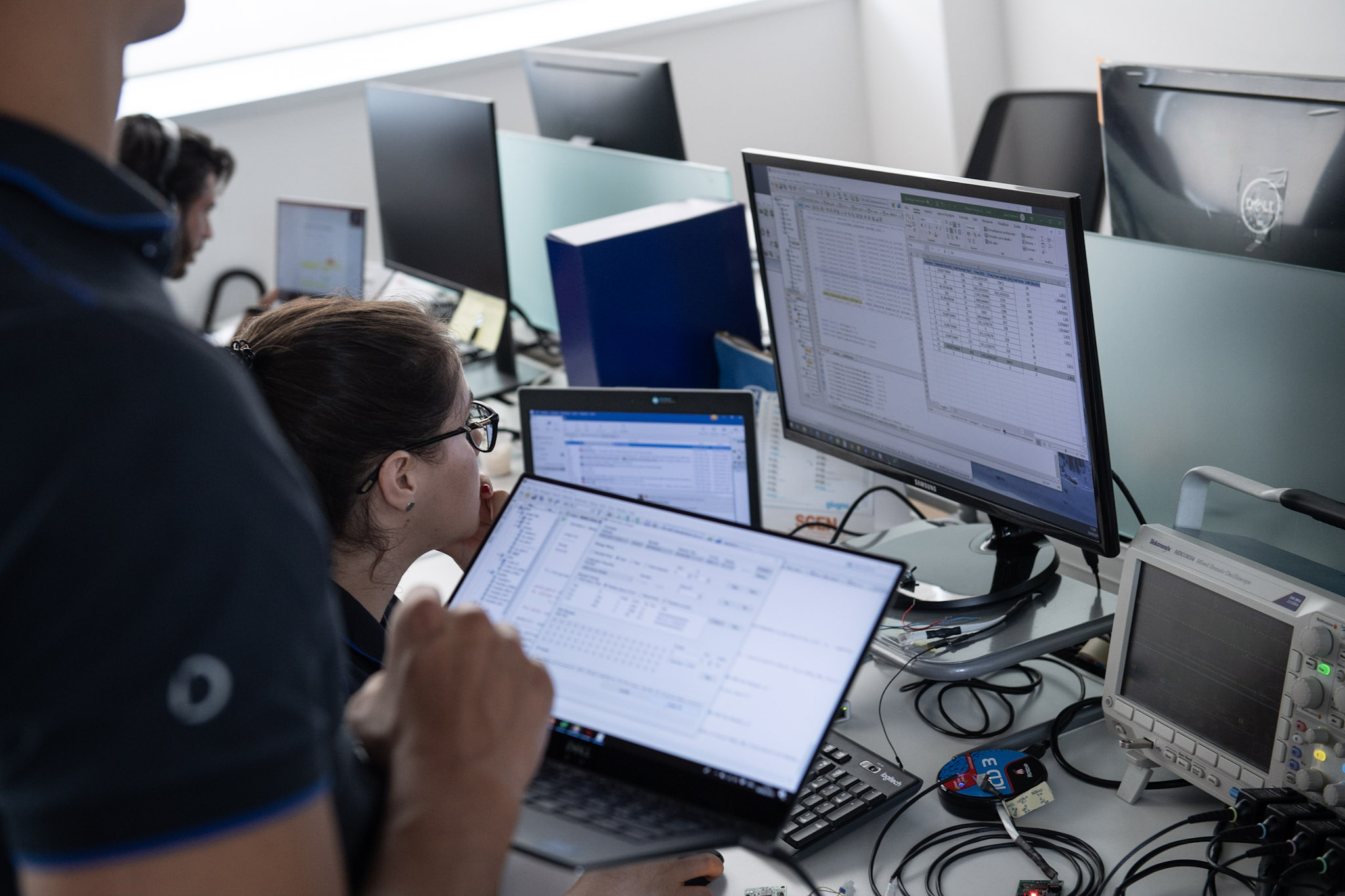 Wir gestalten die Mobilität der Zukunft
Wir begrüßen Innovation und sind immer auf der Suche nach talentierten Fachleuten, um Teil von uns werden
Blubrake ist ein schnell wachsendes Unternehmen und wir sind ständig auf der Suche nach talentierten und qualifizierten Fachleuten, die bereit sind, unsere Ziele zu verwirklichen und zu unserer Kultur beizutragen. Entdecken Sie offene Stellen bei Blubrake und seien Sie Teil des Wandels.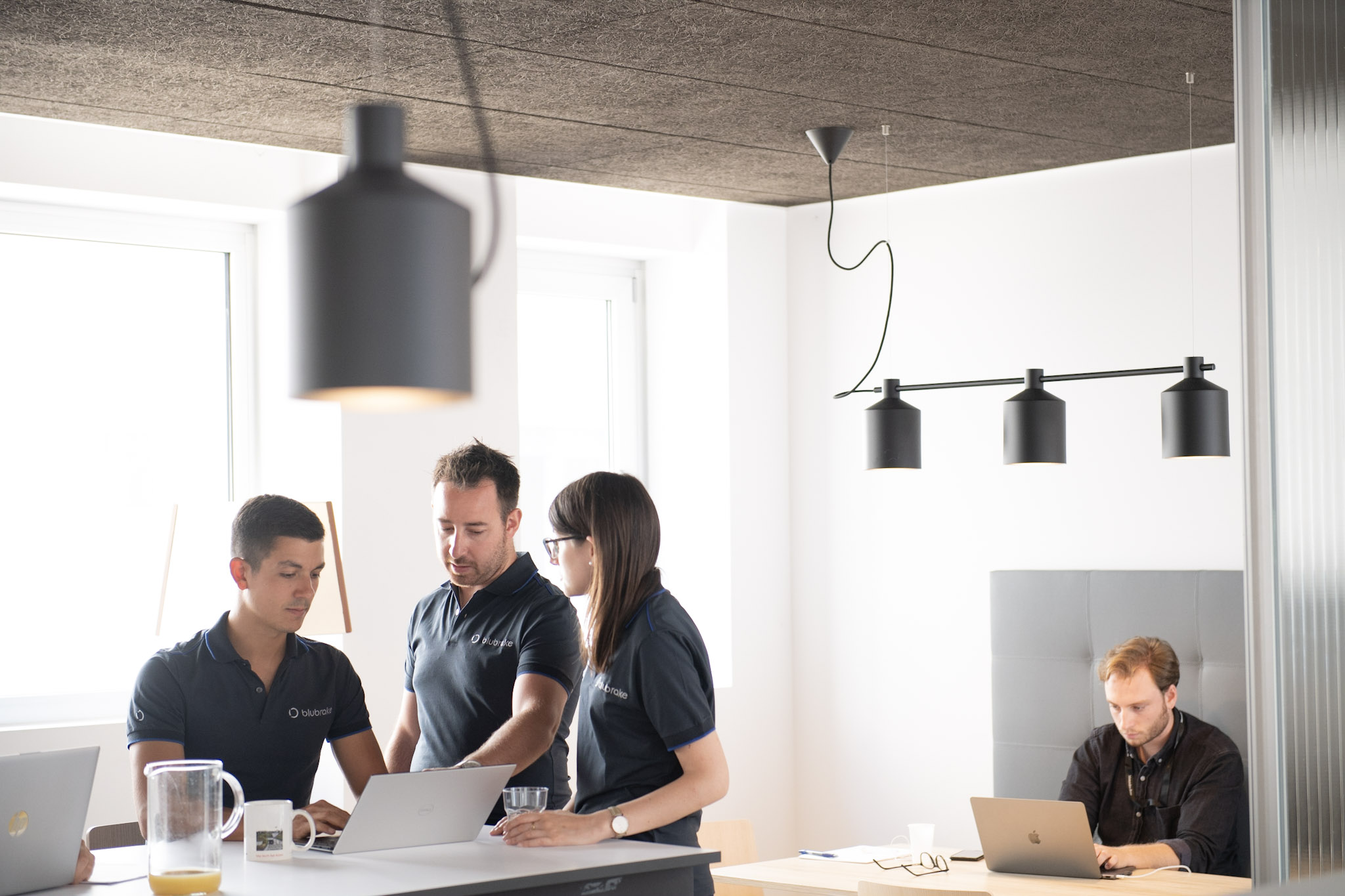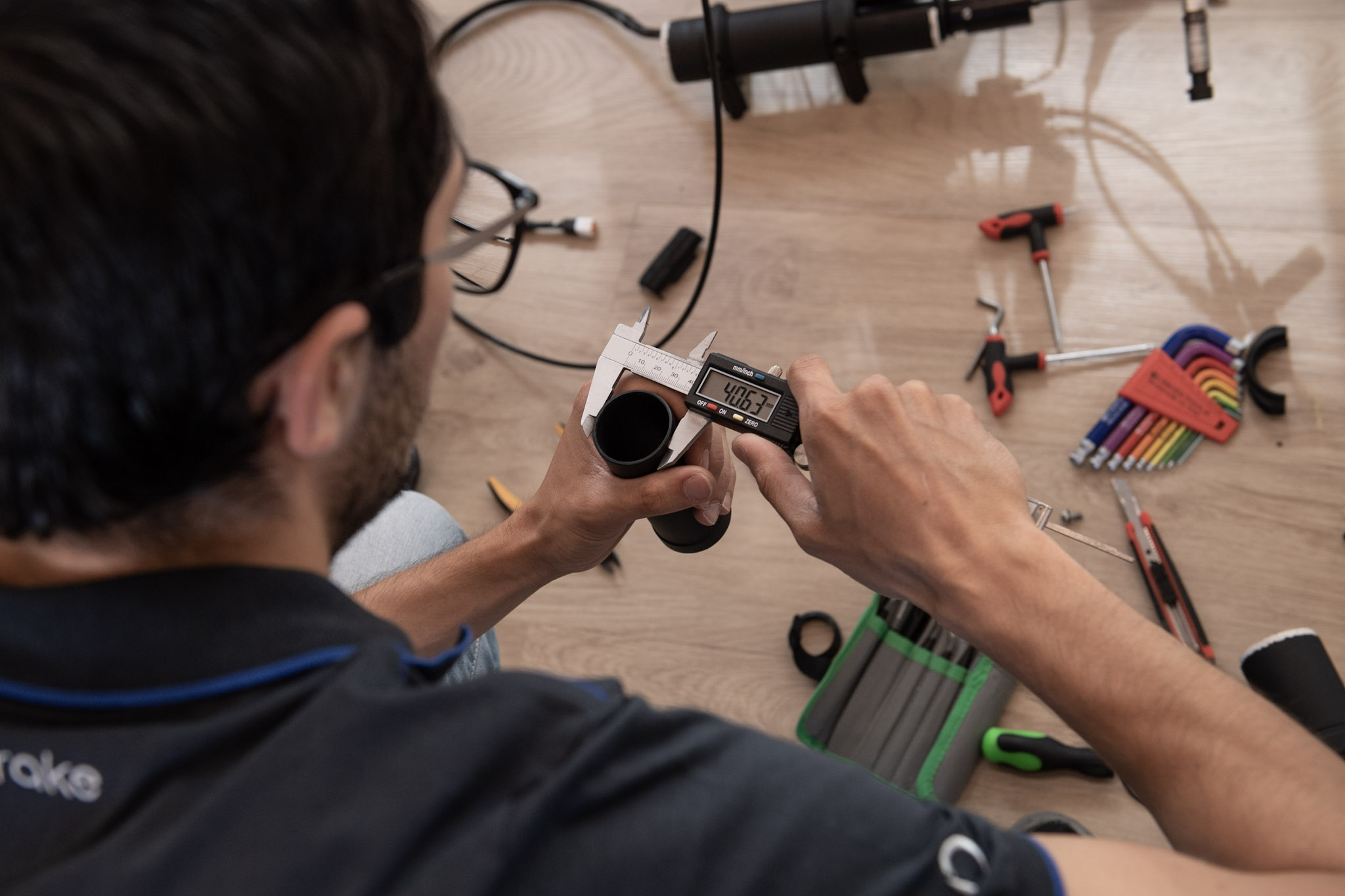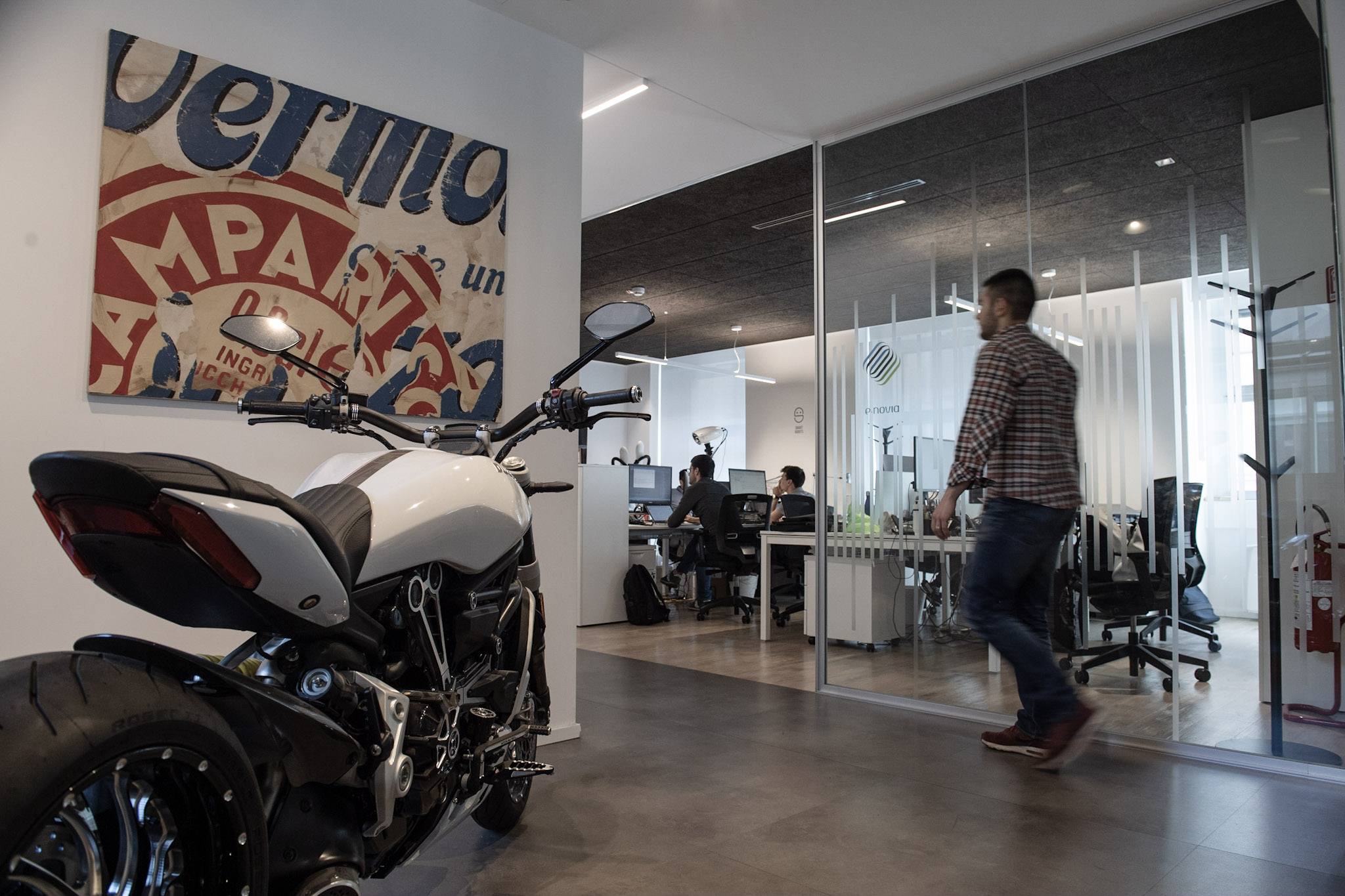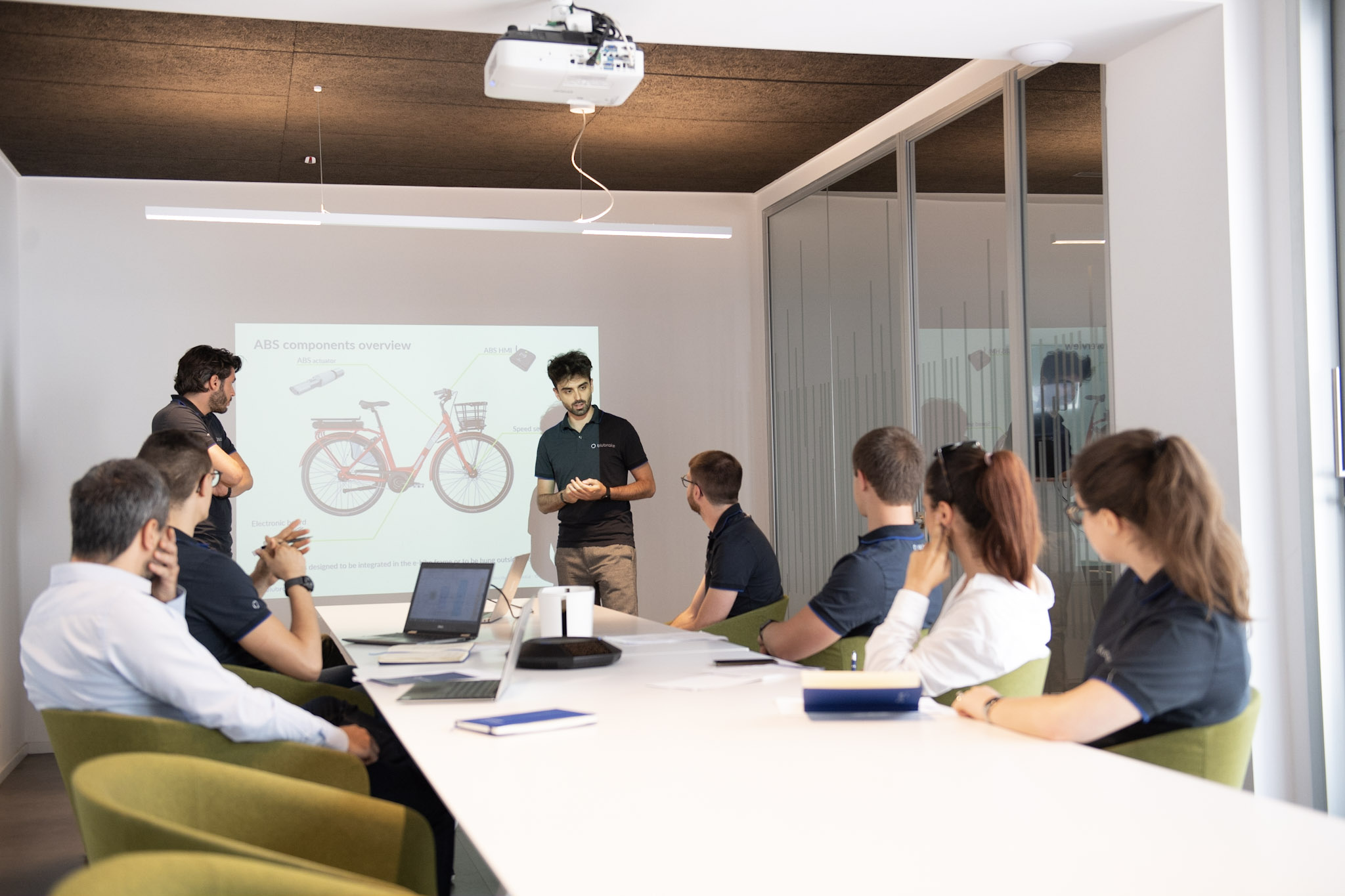 Unsere offenen Stellen entdecken
Bei Bubrake zu arbeiten bedeutet, Teil eines anregenden, jungen und hochqualifizierten Unternehmens zu werden, das die Art und Weise verändert, wie Menschen sich bewegen. Hier finden Sie eine dynamische und innovative Umgebung und ein talentiertes Team aus über 20 Ingenieuren aus vielen Disziplinen auf höchstem Niveau, die das Ziel haben die Leichtmobilität neu zu erfinden.
Junior functional safety engineer
We are looking for a young functional safety engineer, with a background in the automotive industry, or similar sector.
As a Functional Safety Engineer you are equipped with interdisciplinary knowledge and skills that allow you to develop a system and manage its complexity, from the concept phase, through its design and validation, to the industrialization phase, implementing a structured engineering process (V-Model). You are also responsible for defining the appropriate verification and validation plan tailored to the specific application, and support the industrialization phase of the product, including its certification / homologation.
To succeed at blubrake you must be energetic, highly organized, and hard working.
You should have a passion for technology and mobility, together with the capability to solve complex problems in a very limited time.
The position is based in Milan, Italy.
Activities:
Define product requirements specification supporting stakeholders in requirements elicitation
Analyze concept architecture and classify the safety risk of the system, deriving the high-level safety requirements
Translate the product requirements and the safety requirements into detailed system design solutions, analyzing pros and cons of each one, specify lower level requirements allocated to mechanical, hardware and software components
Carry out Failure Mode & Effect Analysis (FMEA) to support the system design and the requirements definition
Interface and follow-up with the different product development area in blubrake to ensure that the requirements are adequately implemented and tested.
Define application specific verification and validation plans aimed to ensure that the product can be industrialized (i.e. released for production) and certified or homologated
Required background and technical skills:
Master's degree in Engineering with best grades
At least 2 years of experience in the automotive sector in similar context, alternatively in system design of industrial machinery or medical devices
Ability to carry out hazard analysis and risk assessment
Knowledge of the safety lifecycle according to safety standards (such as IEC 61508, ISO 26262, EN ISO 13849 or equivalent)
Attention to details and formalization of documents
Knowledge of model-based system design (SysML or UML) and V-Model lifecycle
Knowledge of Matlab / Simulink or Enterprise Architect is a plus
Software development skills in C / Python are a plus
Knowledge of CAN bus and logging systems is a plus
Other skills and characteristics
In blubrake we go fast, therefore it is fundamental that the candidate:
Is able to report in a clear and organized way to your direct report
Has the ability to prioritize tasks effectively and handle various tasks at the same time
Has curiosity, enthusiasm and positive attitude
Has ability to work under pressure
Has willingness to often travel worldwide
Is fluent in English and Italian
We offer:
Full time contract
Compensation in line with organizational role and individual competences and experience
Career growth: in line with the track record demonstrated in the company
Company canteen
Embedded Software QA Engineer
The Embedded Software Quality Assurance team is part of the Research and development team, the candidate will report to the Head of Control and System.
The Embedded Software Quality Assurance team contributes during all the phases of the product development, starting from the requirements, to the design of the firmware architecture, to the selection of the most appropriate and effective technologies to be employed to assure the quality of the Software, to validate and release the Software solutions.
The team guarantees the proper quality control on the released Software through extensive and structured testing activities, based on test protocols and test reports.
The Embedded Software Quality Assurance team works in strict contact of our multidisciplinary organization made of highly skilled engineers and designers working in diverse information technology fields, ranging from hardware engineers, control engineers, product validations engineers and product managers.
Blubrake is looking for a QA Engineer whose activities are aimed to improve the software development process by detecting errors in a product and preventing defects from occurring again. The Embedded SW QA Engineer will execute different roles:
Test Analyst – static testing of requirements and checks them for completeness and consistency
Test Designer – creates and develop a set of tests based on requirements and plans configurations that are necessary for testing
Test Executor – performs pre-planned tests, describes and documents the found errors, and steps for reproducing (or fixing) them
Test Manager – plans and monitors work related to testing such as keeping to deadlines, following a schedule, controlling requirements to tests, setting tasks for team members directly reporting to the Head of System and Control
Requirements:
One or two years of expertise of QA experience, preferably on consumer software products in automotive or aerospace industry
Knowledge of C and modern scripting or compiled languages (Python, JavaScript, etc)
Ability to communicate technical concepts to a non-technical audience.
Ability to solve hard problems with creative and sustainable solutions.
Be detail oriented and strive for the best product for our customers.
Contribute to all phases of the product software lifecycle, including requirements analysis, design, implementation, automated test, release, support, and documentation
Design modular testing environment that is maintainable, scalable and reusable across blubrake product line
Basic knowledge of the MISRA C guidelines
Strong troubleshooting and root cause analysis skills
Demonstrated ability to work on teams. A strong desire to learn from and help others
Engineering degree in Computer science or Electronics
Other nice to have requirements:
Practical knowledge of high-level programming language (C#, Java)
Experience on CANbus, CANopen and BLE protocol
Experience on bootloader and flash memory
Knowledge of Vector solutions (CANoe, CANAlyzer, etc)
Knowledge of Mathworks solutions/toolboxes (Simulink Test, etc)
Availability to travel
We offer:
Full time contract
Compensation in line with organizational role, individual competences and experience
Salary in line with the competences and experience
Company canteen
PLACE OF WORK: MILAN, MI (ROME)
Blubrake is looking for a Senior Sales Manager with a background in the automotive industry or in the high tech business.
Blubrake is a young and successful company in the e-bike industry, with a solid business and enormous growth potential in the European and North American markets.
You will take a leading position in the company and will drive the international growth of the company.
The successful candidate will report to the General Manager and will take the responsibility of the full commercial development of the company, by coordinating internal and external resources.
Drive the commercial effort by defining and executing, in coordination with the company's management, the commercial strategy, goals and plan;
Meet revenue generation targets;
Engage, nurture and close negotiations with existing and new B2B leads (e-bike manufacturers, logistic companies, bike rentals, …);
Constantly keep up to date and regularly present the commercial reports and the identified action plans;
Work with existing and new customers to identify best technical and commercial fit between our products and the customers' e-bikes;
Work closely with internal stakeholders in order to make sure customer requests are addressable;
Work closely with internal stakeholders in order to define customer projects timelines and to make sure they are respected;
Collaborate with the Marketing team to maximize the growth potential and identify segments, features or product updates
Requirements:
6+ years of experience in B2B sales;
Availability to travel internationally frequently;
Fluent in English: 90% of our market is outside Italy;
Skilled in crafting sales pitches and presentations;
Analytical skills, ability to solve problems independently;
Background in automotive, cycling or high tech
Requires wide availability to travel internationally.
PLACE OF WORK: MILAN, MI (ROME)